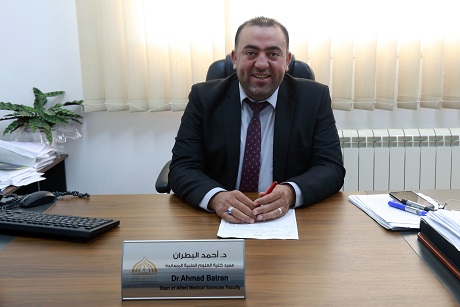 Dr. Ahmad Al-Batran
Dean of Medical Allied Sciences Faculty
mas.dean@paluniv.edu.ps
00970 - 22751566 / 215
Introduction
The Faculty of Allied Medical Sciences was established at the Palestine Ahliya  University (PAU) in 2007 as a Department of Radiology. The Department of Physiotherapy was added in 2010. The Faculty now offers a bachelor's degree in both specializations. Students in these programs are required to complete a total of 142 credit hours in a combination of theoretical, practical and clinical topics. Many courses during the first year overlap between the two departments, while in the second year only a few overlap. Students spend the remaining four years studying subjects related to their specialization in order to provide them with the necessary skills to become active members of their professional community.
Vision
To provide high quality education and research disciplines in various fields within medical sciences, and to support the labor market with qualified technicians and specialists.
Mission
To meet the needs of the growing Palestinian community with qualified technical personnel in various fields of treatment, diagnosis, prevention and rehabilitation on par with the level of health and medical services currently offered, and up to the level of scientific and technical progress in the areas of health in general.
Goals
To graduate competent students who are responsible and motivated to carry out health care tasks according to professional standards
To encourage and develop academic research in the field of medicine.
To develop the skills of all students of the faculty academically and professionally.
To expand the provision of specialized medical sciences to support the needs of the community.